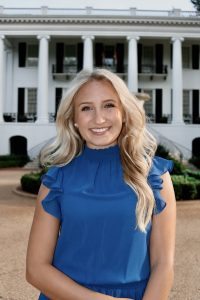 Jenna Groeber's academic career at the Capstone reflect the uniquity, intersectionality, and innovativeness that are the bedrock of any great scholar. Jenna began studying chemical engineering in the Fall Semester of 2020. However, as part of the STEM Path to the MBA Program, she also participated in exclusive courses where she learned how to build businesses around innovation. Lastly, she has been an active participate in undergraduate research. Despite this diverse array of responsibilities, Jenna has excelled in her studies and cemented herself as a truly remarkable student.
Jenna's research has been a large part of the ChBE department's work related to greenhouse gases. In the lab, Jenna has studied scholarly journals on microporous zeolites and independently synthesized more of these compounds. Ultimately, the zeolites could provide an effective means for absorbing carbon dioxide, which is generated by jets and other aircraft, thus reducing atmospheric emissions. In addition to her work in the lab, Jenna has used her business acumen to facilitate other areas of the ChBE department's research operations. She recently accepted UA's Early Career Research Administration (ECRA) Fellowship. Through the fellowship, Jenna will help UA's Office of Sponsored Programs develop proposals and budgets for research projects and ensure that important regulations are observed in labs across campus.
Jenna's impact on the university goes beyond its classroom and labs. She is an active participant in several student organizations, including the American Institute of Chemical Engineers (AIChE). Additionally, she belongs to the Alabama chapter of the Delta Delta Delta sorority and Theta Tau Professional Engineering fraternity. Through these groups, Jenna has been able to enrich her education and make a positive impact on communities greater than herself. These experiences leverage Jenna's appreciation for collaboration. She holds her peers, research partners, and professors in high regard and values learning as a shared experience. Consequently, her approach strongly resonates with the ChBE department's emphasis on group projects and other interactive elements of the curriculum. Altogether, this passion for working with others has allowed Jenna to maximize her potential while also bringing out the best in those around her.
As Jenna enters the fourth year of her studies, she is set to enter the Graduate School MBA Program at UA. She is also poised to graduate with her B.S. in chemical engineering in May 2024. Her relentless pursuit of knowledge and passion for her work have been the driving factors behind these accomplishments and will continue to serve her well in the future.