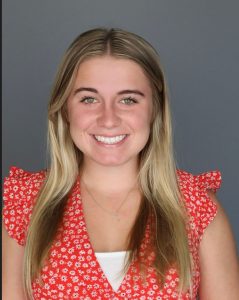 Since arriving on campus in the Fall of 2020, Gina Lusvardi has been an exemplary student, researcher, and leader in the ChBE department. At every stage in her educational journey, Gina has shown uncompromising determination and passion. These traits have allowed her to consistently earn high marks despite the rigor of her classes, as she has been on the President's List every semester. Gina was also recognized as an outstanding sophomore in the ChBE department in 2022 and as an outstanding senior in 2023.
These awards recognize Gina for more than her academic excellence. She has truly taken the initiative to make the most of her education and leave a mark on the ChBE department and the greater campus community. In her first semester, Gina joined the Materials Engineering and Nanosensor (MEAN) Laboratory. As part of her responsibilities within the lab, she conducted research on electrospun nanofibers to detect the presence of trihalomethane (THM) in water, and she modified various polymeric sensors. Gina considers this experience to be extremely valuable, as it taught her new skills and supplemented her education in the classroom with hands-on practice. Gina is also an active participant in several student organizations on campus. Since 2021, she has been an editor for the Journal of Science & Health at The University of Alabama, and in 2022 she was inducted into the Omega Chi Epsilon Chemical Engineering Honors Society. Additionally, she is a member of the Alabama chapter of Alpha Omega Epsilon, a sorority dedicated towards the advancement of female engineers. Lastly, she mentors young girls interested in STEM. All these activities reflect Gina's enthusiasm and selflessness. She is a student who truly loves what she learns and what she does, and she is eager to share her experience with others.
In May of 2023, Gina graduated summa cum laude with her B.S. in chemical engineering. However, this was not the end of her studies by any means. This summer, she was one of seven students from the department who participated in the Innovative Macromolecular and Polymer Research Experience (IMPRESS) program in San Sebastián, Spain. During the eight-week program, she explored the country while performing research on polymeric ion pumps. She is incredibly grateful for the program, which broadened her horizons, both culturally and academically. Now she is set to return to the Capstone for another two years to pursue her Master's degree.