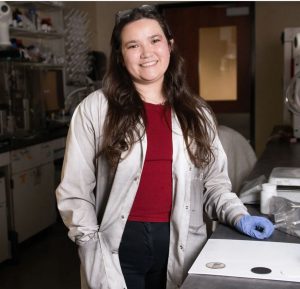 For the last six years, Elizabeth Bury has exemplified what it means to be an outstanding student at both the undergraduate and graduate levels. Elizabeth came to campus as a chemical engineering student in 2017 and quickly became involved with the department and greater campus community. In 2018, she received an email from Dr. Amanda Koh, who was an incoming professor at the time, regarding opportunities in her research lab. Elizabeth was immediately fascinated by Dr. Koh's work with liquid metals and efforts to develop new materials. In Elizabeth's words, these subjects seemed "very sci-fi" and compelled her to get involved in undergraduate research.
As an inaugural member of the Koh Lab, Elizabeth studied the impact of solvents with different oil ratios on the properties of a thermoplastic polymer known as Styrene-Ethylene-Butylene-Styrene (SEBS). Elizabeth discovered that when certain solvents are used, SEBS will shrink, and documented her findings in her first research paper, which she prepared in just six weeks. Despite her impressive research experience as an undergraduate student, Elizabeth did not initially plan on attending grad school. However, over time she fell in love with the interdisciplinary nature of her research and developed a close sense of collegiality with Dr. Koh and other students with whom she worked. Hence, after earning her B.S. in Chemical Engineering in December of 2020, Elizabeth decided to continue her educational journey at the Capstone.
In graduate school, she has played an instrumental role on multiple projects related to dielectric components and the functionality of polymers with liquid fillers. For her, research has become a true passion. Although it can be trying at times, Elizabeth loves the sense of discovery and innovation her work encompasses and is obsessed with trying to push her findings forward through trial and error. This passion was rewarded when Elizabeth received a prestigious Graduate Fellowship from the U.S. National Science Foundation in 2021. This fellowship has allowed Elizabeth to focus even more on her research and receive funding for her own individual projects. Hence, with more freedom and flexibility than ever, Elizabeth is excited to see what she will accomplish next.